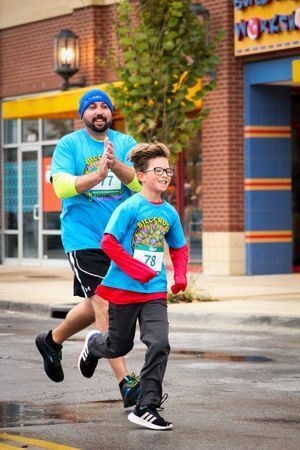 With a family rule of "If someone needs help, help them," it is no surprise that Dan and Tiffany Raeber are raising a family focused on volunteerism and supporting their community. From Dan's family-focused leadership style at Equity Financial Services (EFS) to Tiffany's engagement with their school PTA food drive, the Raeber's are finding ways to support Feed Northland Kids at every turn. Dan recently left a large brokerage firm to start a EFS branch in Kansas City. His uncle founded EFS in St. Louis almost 4 decades ago! EFS is a full-service financial planning firm, offering clients a personalized strategy that helps meet their specific needs. He specializes in retirement planning, tax planning, investment strategies, and estate considerations. His branch is located off of 152 and Indiana at 3200 NE 83rd St, SUite 215 Kansas City, MO, right in the heart of Feed Northland Kids service area.
Dan shared that supporting Feed Northland Kids "has a direct impact on the community that we live in locally and helps kids who will grow up to be our future leaders."
In addition to the EFS Graduate Level Sponsorship for the 13th Annual Bill Cross 5k, The Raeber's recently coordinated a food drive at their local elementary school. Their sons, Jordan and Jackson, were able to pick out what food they wanted to donate and saw their friends being generous, too. "We want community involvement to feel natural and important to our kids, and we do our best to set good examples for them," says Dan.
Feed Northland Kids relies on families like the Raeber's and businesses like EFS to help us achieve our mission of feeding hungry children in the Northland. We couldn't do it without them!